I think the one available postcard postage stamp available through the post office is hella lame?
I feel like I spent a little too much time on my rsvp postcards to slap a polar bear on them. Especially since our invite stamps are so awesome. Zazzle has most of their stamps available in 28 cents as well but are still about twice as much then if i bought them elsewhere. But it sure is hard to resist zazzle's appeal when they offer such wonderful stamps as this: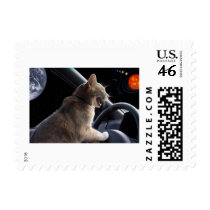 (the appropriately named 'cat lost in space')
Thinking I'm probably going to just use a 44 cent one I like a little better. Unless, any other suggestions?? (also, no disrespect to people who like polar bears!)
In other news:
-Talked with my aunt about flowers. She is planning to grown all the flowers for my centerpieces. How awesome is she?!
-Dropped off invites to be printed (picking them up tomorrow!)
What what